Making use of an Orphaned Station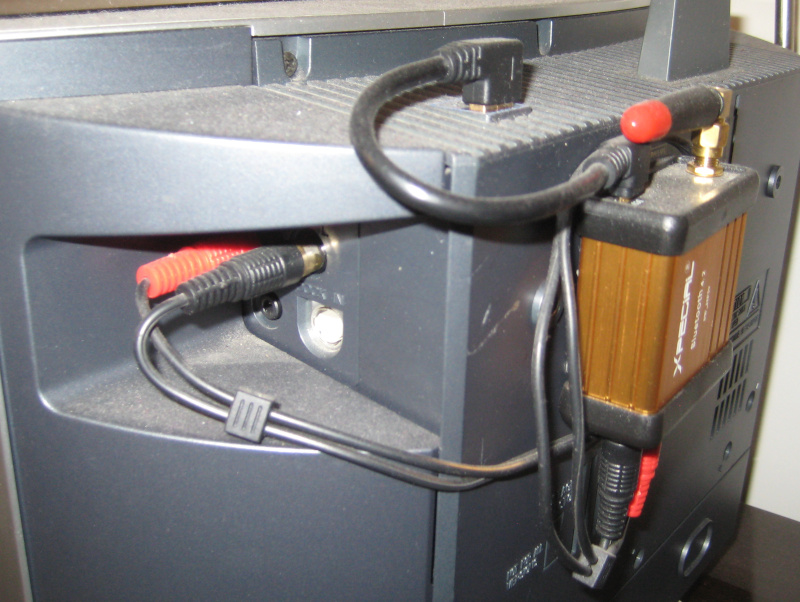 Add Bluetooth capability by attaching an adapter to the line inputs and USB for power as shown. This won't work with a 700 station as those don't have USB ports. The next hack will work with any station, however...

This is how to connect a station directly to a PC and stream audio to it:

1. install and run a uPnP server on PC (Philips MM, Twonky, Intel etc)
2. switch on your station. If this is a brand new station, you should see a language selection screen. Skip to step 4
3. if you see a row of 4 blinking balls, switch source to AUX, enter the menu, select SETTINGS, then RESTORE SETTINGS
4. select your preferred language. The station will then go to install mode
5. switch source to AUX, enter the menu, look for INFORMATION, then WIFI
6. copy the SSID (all 26 characters):
eg: WASC-000000000000-PHILIPS
7. configure your PC wifi to:
- peer-to-peer(ad-hoc) network
- SSID from step 6
- channel 1
- WEP key: 5048494C49505331323358595A
8. go to network settings on your PC, select Network Properties, Internet Properties, and Obtain IP address automatically
9. wait for your PC to establish network connection to the station (about 1-5 minutes, depending on wifi card and OS))
10. enter the menu on the station, and choose SELECT SERVER. The station should show a list of available UPnP servers on your PC.
11. Select your UPnP server and press RIGHT.

After a couple of seconds, the screen should show a list of folders to browse in and play.

I found this method in a post on the archived Streamium Cafe forum, with apologies to the original poster whose name I forgot to note!